Announcing Extraordinary Essex, written by Mavis Sipple.

Wander through any Essex town or village and you will almost certainly find some small delight around the corner waiting to be discovered.

For instance, the George VI post box in Rayleigh High Street, that was sold to Rochford Council for the payment of one red rose, two full-sized windows painted on a wall in Colchester, a clock that goes backwards, a big smiling gnome standing high in a tree in Hockley, announcing 'British Gnome Stores', whilst a great frog acts as a letterbox.

Mysterious pagan stones, devils doors, a strange maze on a tombstone, sundials, towers, clocks, stock and lock-ups are just a few of the more unusual things to be found around the county of Essex.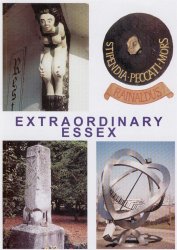 Published by Brent Publications 2000
ISBN No. 0 948706 10 4
Price: £5.50

Extraordinary Essex is available at selected bookstores throughout Essex. To order a copy by mail order, please email




---

Page hosted at Sarfend.co.uk © 1999-2016