Local information for Southend-on-Sea, Leigh-on-Sea, Chalkwell, Westcliff, Rochford & Shoeburyness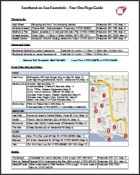 On the Sarfend.co.uk website, you'll find information on the seaside town, links to local sites, photos of Southend, and details of local attractions.
We also have advice for those visiting Southend-on-Sea, Southend News, and help on tracing Southenders.
We also run the busy Southend Forum, where Southenders past and present get together to chat…
If you're planning a visit to Southend, we'd also recommend you bring along a copy of our free Southend Essentials Guide – a free one-page guide to Southend.
About Southend
We're proud to support the Essex seaside town of Southend-on-Sea. Originally known as the "South end" of the medieval settlement Prittlewell, the town has evolved into of the UK's most well-known seaside towns. Southend is famous for being the home of the World's Longest Pleasure Pier, and has been home to many well-known brands such as Access credit cards, Dixons, RBS, Keddies, radio-makers Ecko, Rossis ice cream and Maplin Electronics. Southend is also well-known for its clubs, the University of Essex, the Golden Mile arcades, Adventure Island, the Sealife Centre and a busy high street.
The town's featured in Jane Austin's Emma, Eastenders, Just Good Friends, and in the credits for ITV's Minder. It also gets a mention in The Hitchhiker's Guide To The Galaxy.
About Us
The website Sarfend started in 2004, to provide information and links about Southend in the days when the Internet was a more quiet place. It's still a busy site, with our information pages and active Southend-on-Sea forum continuing to attract website visitors. The name 'Sarfend' has caused some controversy, but was chosen for its memorableness, and as it's significantly shorter to type in than "southend-on-sea"!
Please have a look around – we hope you find what you're looking for.