Information on amateur radio in and around Southend-on-Sea. An overview of ham radio in South Essex, plus information on how to get involved with amateur radio
About Ham Radio
Amateur radio, affectionately known as 'ham radio' is a hobby that allows for experimentation and communication with radio equipment. If you played with a walkie-talkie as a kid, or perhaps if you were a CBer back in the day, then becoming a radio ham could be of interest.
Ham radio operators are licensed to transmit on a wide range of frequencies – the HF band allows you to transmit around the world, bouncing signals off the ionosphere, the VHF and UHF band allows for local transmissions, and signals up to the GHz range are available too. Amateurs can transmit voice, data, images and good old Morse code from home, handheld radios and in-car rigs. Newer systems also use the Internet to get signals even further, and it's possible to use amateur satellites, bounce signals off the moon, and even to chat to astronauts on the ISS International Space Station.
How to become a ham
To be able to transmit on the special amateur radio bands, you need a licence, which is free. You will need to sit a short multiple choice exam, and demonstrate that you can use radio equipment. There is a small fee for the training course and the exam.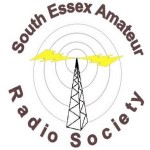 Fancy the idea of becoming a radio ham? Your best option is to attend a local Foundation course. The nearest entry-level course, called 'Foundation', is offered by SEARS, the South Essex Amateur Radio Society – They meet once a month in Thundersley, close to Benfleet. They offer a 6-week course, typically on a weekday evening.
The course includes a few easy practical activities, such as how to connect and use amateur radio equipment, then a 26-question multiple choice test. If you pass, you will then get an Amateur Radio licence from Ofcom, and will be allowed to start transmitting on a range of frequencies and bands.
For details, see the SEARS website, or see Essex Ham Training for details of training courses across Essex.
Ham Radio in Southend
Over the years, there have been a number of local amateur radio clubs. The Southend Amateur Radio Society still exists, but it's more of a social club these days. Locally, the nearest active club is S.E.A.R.S (South Essex Amateur Radio Society), based in Thundersley. There's also the popular Chelmsford Amateur Radio Society, as well as clubs in Canvey Island, Thurrock, Colchester, Dengie Hundred, Barking, Braintree and Harlow. There are also county-wide events such as the Essex Skills Night. For more, see the list of amateur radio clubs in Essex
Essex Repeaters
Repeaters are a great resource for ham operators. You can use a low-power radio to talk to a local repeater, which will boost your message at higher power over a wider area. The practical upshot, is with a 5 watt handheld radio, you should be able to a signal to the repeater in Chelmsford, and get your voice heard across Essex and beyond. Here is a map of the repeaters operating in the Essex and North Kent area: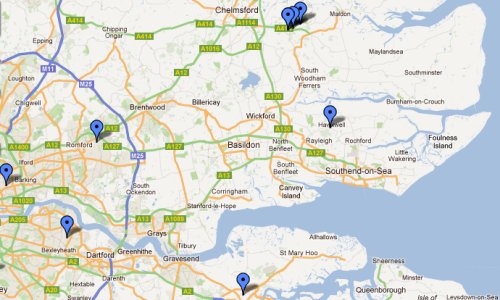 Are you an Essex Ham?
If you're a licensed amateur, you might want to take a look at the website EssexHam.co.uk – This site includes a news section, a list of local amateur radio events, plus a discussion forum where you can discuss all things amateur radio in Essex. Go to www.essexham.co.uk
Got a question about amateur radio in Southend? Please get in touch
Related Links: