Details of the out-and-about hobby that is Geocaching. With a GPS or Smartphone, go out hunting for treasure in and around Southend-on-Sea
What is Geocaching
It's a high-tech hobby that will get you out in the fresh air, exploring parts of South Essex that you never knew existed. It's a world-wide hobby that used GPS technology to track down concealed caches, and geocachers are very active in the Southend area.
The hobby is free – all you need is a GPS receiver (many smartphones have GPS built-in), and you're good to go. From the Geocaching.com website, you find a local geocache, and use your GPS to navigate to it. Once there, use the clues from the website to track down the cache, and see what goodies it contains.
Geocaching in Southend
There's a decent number of caches in and around Southend, at it will take you to some interesting places. Here's just a few that the team at Sarfend has discovered:
A hidden park in Rochford
One of the last few remaining World War II gun emplacements
Three hidey-holes in Belfairs Woods
A cache many Southenders walk past every day
Take a look at the following map to see how many there are in the area – there are more being added all the time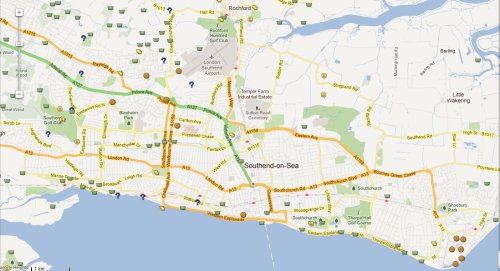 A map of geocaches in the Southend Area
Southend Caches
Here are a few photos of some of the local caches found by the Sarfend team. We've also left a few goodies of our own in some of the local caches.
If you stumble across a cache visited by "Sarfend", please get in touch and say hi.
Your First Steps
Go to www.geocaching.com, and type Southend-on-Sea into the search. Then use the map to see what's local. Open a cache for the co-ordinates, details and a clue. Even better, if you have a smartphone, download the Geocaching app, and you'll have access to local caches, clues and the built-in compass to help you track it down.
Here's an example of a cache, one that's located by Garons Park: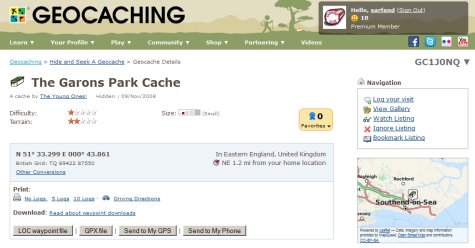 Got a question about geocaching in Southend? Please get in touch
Related Links