Some useful information on visiting the town of Southend-on-Sea, including how to get here, where to park, where to eat, and what to do when you get here.
The page has been put together by the sarfend.co.uk team, and we'd welcome your suggestions to help us add to this page.
Get to Southend by Road:
The two main roads running into Southend are the A127 and the A13 London Road.
The A127 is generally regarded as a better road – it's dual-carriageway all of the way, and connects well with the A12 (Chelmsford) and A128 (Brentwood). Watch for the 'average speed' cameras on the approach to Southend on the A127.
SAT NAV:
If you're programming your sat nav for the trip to Southend Seafront, try the postcode SS1 1EE.
For Town Centre parking, use the postcode SS1 2JH
More information: Driving to Southend
Get to Southend by Rail:
There are two railway lines running into Southend-on-Sea:
The c2c line from London Fenchurch Street. The journey from London is slightly shorter on the c2c service (around 40 minutes). The c2c line is more reliable and comfortable than the other.On the c2c line, there are two Southend Stations, Southend Central and Southend East. Southend Central puts you out right onto the high street and is closest to most of the action, including the seafront and the shops. Southend East is a couple of miles out of town, more for residential passengers.
National Express East Anglia offer the second rail service into Southend. Trains run from London Liverpool Street. This connects to Southend Victoria station, which drops you out at the top end of the High Street, and is a few minutes walk from the town centre.
More information: Trains to Southend
Parking in Southend: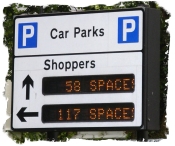 There's a fair amount of parking spaces in Southend. Our personal favourite (for location and availability of spaces), is the Warrior Square car park. (Streetmap map). This is pretty central, and with 398 spaces, you can normally park. Charges for this council carpark (Oct 2011): 1 hour=£1, up to 6 hours=£6. Slightly cheaper, is the Multi-Storey car park at Victoria Circus Shopping Centre.
Keep an eye out for the electronic car parking signposts, which display available spaces.
There's a useful page on the Southend Council site with a list of local car parks, and a PDF map.
What to do in Southend:
There's a fair amount to keep you busy when you visit Southend-on-Sea. Here are a few suggestions:
More suggestions on our In Southend section
Places to eat:
This section is obviously pretty subjective, and we'd welcome some suggestions from our visitors. Here are a few of our team's recommendations:
Italian: At the top of the High Street, there's Bella Italia (formerly Mamma Amalfi), as well as an Ask and a Pizza Express. Towards the seafront end, just off the High Street there's a rather small, but excellent Italian bar/restaurant, Il Vicolino (Alexandra Road). Down Queens Road (close to WH Smiths), there's also the Il Pescatore.
Indian: Our recommendation is the Gulshan Tandoori, 5 minutes drive from the town centre (266 Sutton Road). Closer to the High Street (off Clifftown Road), there are two Indians next to each other, the traditional Amina, and a South Indian restaurant called Keralam.
Chinese: Joy King, 5 minutes drive from the town centre (128 Hamlet Court Road, Westcliff-On-Sea) – 2 minutes walk from Westcliff station on the c2c line. Also, ten minutes walk East of the Pier, opposite the Sea Life Centre, is the Pearl Dragon.
50's Theme Diner: Featured: For a fun place to eat on Southend Seafront, we recommend Bobby Jo's 50s Diner. Bright pink and blue US themed restaurant directly opposite the Sea Life Centre. Authentic jukebox and memorabilia, and the serving staff are kitted out in traditional uniforms. Friendly place, great location, great food. Decent breakfast (until 4pm weekdays with bottomless coffee). Check out their unique two coloured milkshakes.
Fish and Chips: If you're looking for fish and chips with a view of the estuary, head to the seafront, Western Esplanade, and look for Fisherman's Wharf (2 minutes from the pier). Otherwise, there are several other smaller eat-in fish and chip shops: Henry Higgins (on the London Road, opposite Sainsburys, 2 minutes from the Odeon). There's also the Seafarer, near HMV. There are also a number of take-aways in the area.
General: For something fairly upmarket in central Southend, try The GlassHouse (on Alexandra Road). You may need to book. For somewhere with atmosphere and a wide menu, there's Frankie and Bennys on Chichester Road (close to Warrior Square car park). There's also a Nandos at the top of the High Street, close to the Odeon. From 11am-9pm, Yates carry a good range of pub food in a nice atmosphere. For a place with a decent view, there's Ocean Beach Cafe/Bar/Bistro on the seafront (5 mins drive east of the Pier), near Lifstan Way.
Polish: The team recently had a fun night out at the Polanka Polish café/bar/restaurant, two minutes walk north of the Kursaal, on Southchurch Avenue.
Sea View: We can highly recommend Toulouse Restaurant, on the Western Esplanade in Westcliff – Great views of the sea, and top quality food. Plus the name's great – the restaurant is on the site of the old seafront public conveniences – the two loos.
Coffee shops and cafes: As well as the high street Starbucks, Costa and Cafe Nero, there's a smattering of other coffee shop / cafes throughout the town, mostly on the roads running off the High Street
Fast food: Central Southend has a busy KFC, two McDonalds and a Burger King on the high street. There's a Subway at Victoria Shopping Centre
Hooters: Cheeky US restaurant chain… coming soon, apparently. More:Hooters Southend
Hamlet Court Road, Westcliff: Thanks to site visitor Jess for the following: "Hamlet Court Road is the restaurant district of Southend, there is a car park close by as well and a wide variety of international restaurants, cafes, pubs and bars. e.g.
Greek (the Akropolis, 120 Station Rd, Westcliff), Japanese (Fujiyama, 26 Hamlet Court Rd), Moroccan (Alfa Lay-Lah,157 Hamlet Court Rd), Thai (Thai Nava, 104 Hamlet Court Rd), plus some many Indian restaurants.
Places to drink:
There's a pretty varied range of bars and pubs in the centre of town. Below is a quick summary – bear in mind that the three contributors to this section are in their 30's…
Last Post – On the site of the old Post Office in Clifftown Road, this is a pretty big pub, and it's a fairly standard Wetherspoons – typically a meeting place for folk on their way out for the evening, the place is always full of characters. No music.
The Hogs Head – at the top end of the High Street, close to Pizza Hut and Frankie & Bennys. Pretty mainstream, real ale and satellite TV
O'Neill's – Very close to Southend Central station, and just in front of the college building. Not a bad place, but there's a lack of seating and it's a little smokey.
Yates – Top of the High Street near Bella Italia and the Odeon. Pretty spacious, pub food's OK, and quite pleasant during the day
Varsity Bar – Just off the High Street, close to Nat West, Warrior Square Car Park and Mayhem nightclub. Fairly new, lively, with a young crowd. A popular place in a prime location
Saks – On Clifftown Road, opposite Southend Central station. Music, Football, fairly trendy, with a small basement club
Seymours – Just opposite Mayhem and Varsity. Various themed nights ( Monday: Karaoke, Tuesday: Spanked for Students, Thursday: Comedy. Friday and Saturday are normal club nights). Formerly Chicago Rock.
The Townhouse – Off the high street, opposite HMV. Mainstream and popular.
Clarence Yard Bar – Just off the High Street in Clarence Road, laid-back, and dark.
Pipe of Port – Off the High Street in Tylers Avenue. Hidden gem known for its great wine and fab food.
The Shorehouse – About the only kiddie-friendly pub in Southend – Around ten minutes drive east of the pier on the seafront road to Shoebury
Sun Rooms – Loads of character, an alternative quirky, grunge meeting place, tucked away off Alexandra Road, down from the Inane Cafe
The Inane Cafe – Is it a bar, café or club? Small and trendy venue next to Element Nightclub on Alexandra Road.
Clubs:
There's a busy nightlife. The main clubbing venues are listed below, but many of the bars listed above also have a club atmosphere in the evenings. Note that the three contributors to this section are in their 30's, and aren't clubbers…
Talk Nightclub – On the way to the seafront, in Lucy Road – probably the most well-known club in South Essex (formerly TOTS).
Mayhem – New kid on the block, in an excellent central location (just off the High Street, near to Warrior Square Car Park and Southend Central station). More
Storm Nightclub – Catering for the more mature audience, off the High Street, down the street from Starbucks
Element – Club and bar on Alexandra Road, formerly Baker's Bar. Open late, dance music, popular with the locals.
Where to stay
Just up from the pier is the newly-opened Park Inn Hotel. There's also the Westcliff Hotel, with views of the Estuary, five minutes walk from the town. In the centre of town, there's a Travelodge near Warrior Square. There are several bed and breakfasts in the area.
For an overview on where to stay, and for late booking discounts, see our Southend Hotel Information
If you're looking for accommodation in Southend, try Laterooms (for discounted late availability), or search at www.expedia.com.
Other places to visit
Ten minutes drive West of Southend is a little town called Leigh-on-Sea, which has a range of quirky, non-mainstream shops and cafes – well worth a stroll. For a bit of history, walk down to Old Leigh, the old fishing town.

In Southend | Visitors Book | Essential Guide | Weather | Travel | Links | Forum