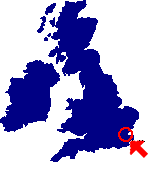 Southend-on-Sea is in the county of Essex, in South-East England, on the north bank of the Thames Estuary.
The town is primarily a seaside resort, but is the home of companies such as FDR (the credit card processing company), Amstrad, Maplin Electronics, Rossi, and a host of electrical equipment, pharmaceutical and light engineering firms.
The most notable landmark is that of the 1.3 mile (2km) long Southend Pier – the longest pleasure pier in the world. Southend is also famous for the Golden Mile of amusement arcades and attractions, as well as Peter Pan's Adventure Island.
The Sarfend site contains links to Southend-on-Sea information, services and sites of use to anyone living in South-east Essex, as well as those looking for more details on
Southend or neighbouring Westcliff-on-Sea, Leigh-on-Sea and Shoeburyness.
Got a question on Southend? Ask away in our Southend
forum.

Information on Southend-on-Sea
Southend News & Weather
Local Attractions
Southend-on-Sea, situated at the mouth of the Thames Estuary, has long been a favourite seaside resort, due to its close proximity to London.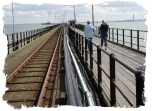 Southend's most well-known landmark is the Southend Pier – the world's longest pleasure pier. It's also well known for its beaches. The town has a range of attractions to offer, including the annual illuminations on the seafront, the Southend Airshow, boat trips, the Golden Mile of arcades, and a wide range of shops on the High Street, including the undercover Royals Shopping Centre and Victoria Shopping Centre.
Here are just a few links to Southend-on-Sea attractions:
Travel news and information
More at www.southendtravel.co.uk
Local Entertainment
Southend comedy
Local books on Southend and Essex
Looking for books on Southend-on-Sea, or for more on the history of Southend? Take a look at our Southend Books page.
Local Business and Services
More Southend-on-Sea links
A collection of other links to Southend-related content, can be found on our dedicated
Links page
Locating Southenders
We quite often get messages from people who've found our site as they're looking to track down friends and relatives from in and around Southend. To help anyone looking for Southenders, we've created a page: Tracing Southenders
Southend-on-Sea images
For a collection of photos from around Southend-on-Sea, see our Southend Pictures page
For some aerial photos, see our Southend Overhead page.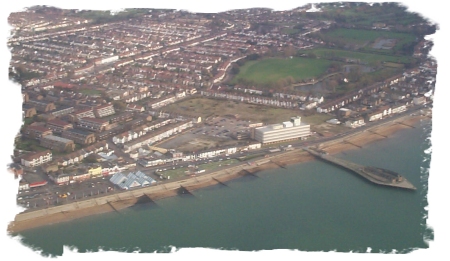 Southend seafront from 1000 feet.
You can see an image of your house online at
www.getmapping.com