This page contains little snippets of information gathered from the Sarfend.co.uk team.
Southend Hospital Snippets
Maternity Unit (June 2007).
Southend Hospital's maternity unit is on the second floor in the Cardigan Wing (the West part of the hospital).

There are three parts to the Maternity unit – The Central Delivery Suite, and two wards (Margaret Broom 1 and 2). If you need to call Central Delivery Suite, the number is 01702-221323

Visiting hours for maternity: The following hours are for Margaret Broom (Maternity): 9-noon (partners only), 2:30-4pm and 6-8pm. Max number of visitors: 2 plus partner

.
Car Parking (June 2007).
There are two main car parks, West (Pay-and-display) or East (ticket-based, pay on exit). The charges in June 2007 are: £2 for two hours, £2.50 for four hours, or £4 for a day. Charges operate 7 days a week, 24 hours a day.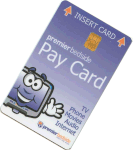 Bedside phone system (June 2007).
Most beds at Southend Hospital come with a TV system installed by Premier Bedside – this offers TV, radio , telephone and Internet. To use the system, you need to get a card that slots into the bedside unit. It's a pay-as-you-go card that you top up from machines around the hospital.

To call into a patient in hospital from the outside world, you can dial 07003 400 010. You then need the four digit extension of the bedside unit. Dialling in costs between 40-50p a minute. Dialling out costs 10p per minute, and to call out, you need credit on your card.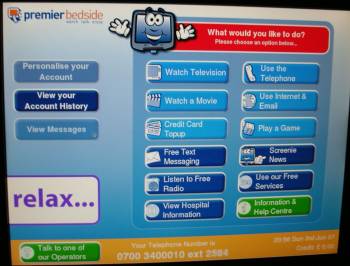 Photo of the Bedside TV system
Hospital Radio
Southend General's hospital radio station is on-air seven days a week – Weekdays from 6-10pm, Saturday noon till 5pm, and Sunday 10am-10pm. If you want a request on the station for a patient in hospital, call 01702-338181. From a bedside TV, call 4500. More on Southend Hospital Radio
---
Other Snippets
Weather | Travel | Southend Radio | Southend TV | Southend Photos | Links| Forum