Announcing Titbits and Tales of Old Essex, written by Mavis Sipple.

A book packed with stories, photos and information about the county of Essex.





Mavis Sipple has collated information from archives and researched old folklore to find interesting titbits about people and customs of Essex.

Stories range from rogues and vagabonds of yesteryear to inventions and inventors, inn and public house signs, marriage customs, writers and poets.

All part of the heritage of the county.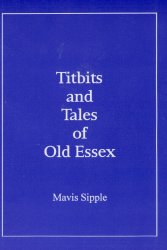 Published by Brent Publications 1999
ISBN No. 0 948706 09 0
Price: £3.95

NOW AVAILABLE FROM AMAZON.CO.UK

Titbits and Tales of Old Essex is available at selected bookstores throughout Essex.



---

Page hosted at Sarfend.co.uk © 1999-2016