About the Southend Weather Station
This website uses up-to-date weather information from a combination of sources, including the worldwide Weather Underground service, and an amateur weather station in Leigh-on-Sea
Our first local weather station was a WH1081 wireless USB station. This consists of a temperature, pressure, wind speed/direction and rain-gauge mounted outdoors. In July 2011, we replaced this with the Mk II version, the Watson W8681, which includes a solar and UV sensor.
These wireless weather stations sends data every minute wirelessly to a base unit indoors that is connected via USB to a PC.
The PC collates the data using a software package called Cumulus. This uploads a snapshot of the weather data every 5 minutes.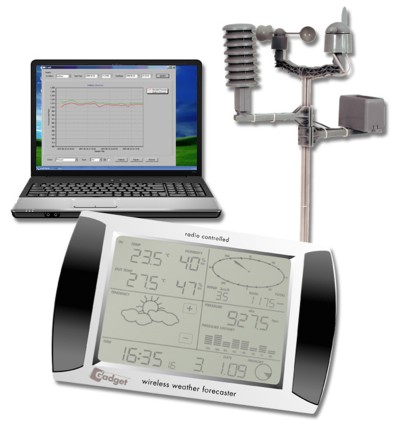 We also make use of a webcam to provide an image every 10 minutes, during daylight hours. See the latest Southend Weather Webcam Image
Do not base any important decisions on the information provided on this page.
Weather Data On Your Mobile
Want to get information from our weather station on your mobile? Here are a couple of options:
About Us
The Southend Weather service is provided by Sarfend, a local website serving people in and around Southend. The Sarfend website offers local information, details of services not found elsewhere, and a number of other services to Southenders. The site also operates a busy Southend discussion forum.
About this website
Data is created using the free Cumulus package. This main weather service template is CarterLake.org with PHP conversion by Saratoga-Weather.org.
The website is a part of the Sarfend-on-Sea web service, and is hosted in the UK by Namesco