Local information for Southend-on-Sea, Leigh-on-Sea, Chalkwell, Westcliff, Rochford & Shoeburyness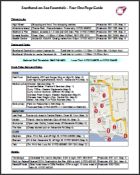 On the Sarfend.co.uk website, you'll find information on the seaside town, links to local sites, photos of Southend, and details of local attractions.
We also have advice for those visiting Southend-on-Sea, Southend News, and help on tracing Southenders.
We also run the busy Southend Forum, where Southenders past and present get together to chat…
If you're planning a visit to Southend, we'd also recommend you bring along a copy of our free Southend Essentials Guide – a free one-page guide to Southend.