Doing our bit for citizen jornalism, we're just back from the scene of what seems to be a fairly major fire on London Road, Leigh-on-Sea.
It seems that the blaze has hit the showroom of Mad Dogs & Englishmen at 1345 London Road, Leigh-on-Sea, and Just Bikes at 1339 London Road, Leigh-on-Sea.
As of 19:55 on Sunday 05 April 2009, the fire is still blazing away. We saw at least six engines in attendance, including crew from Hadleigh, Leigh, Southend and Canvey Island. The aerial platform was also in use to fight the flames. The crews appeared to be drawing water from three different hydrants. We saw some of the crews donning breathing apparatus, and there were at least two ambulances in attendance.
According to initial reports, the fire may have started at Just Bikes, spreading to Mad Dogs. The petrol and oil at the rear of the bike shop, plus the paints and thinners at the furniture store had for a particularly nasty fire.
At the time of writing, the London Road remains closed between Elmsleigh Drive and Belfairs Drive, with a solid police cordon. Smoke and flames can be seen from quite a distance.
Lots of locals are in attendance to see what's going on, and a fair few were snapping away on camera phones, capturing the scene for posterity.
As were we. Here are a few photos taken between 7 and 8pm: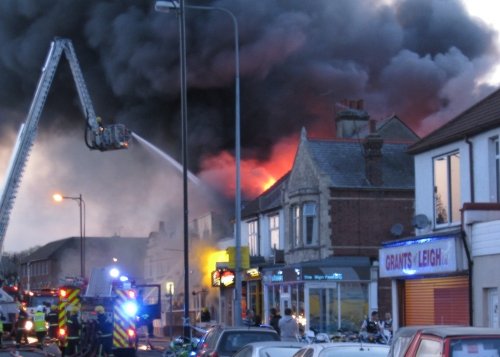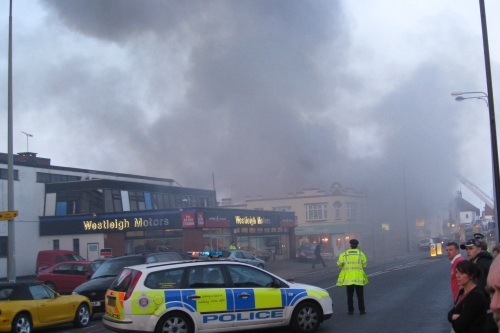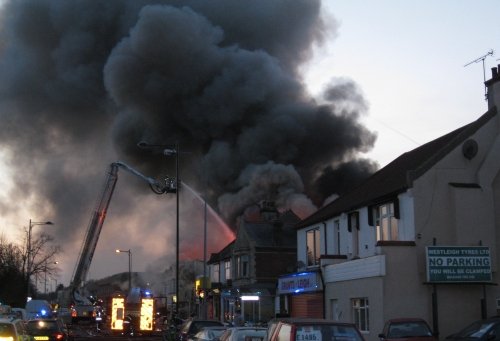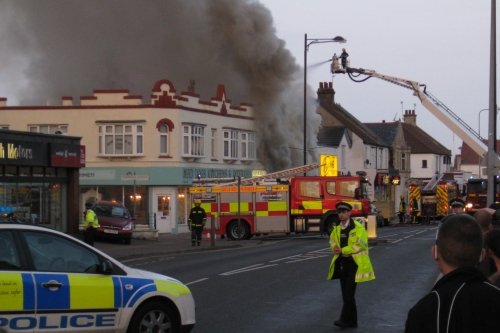 Congrats to the emergency services for their hard work.
Contact us for images if required.