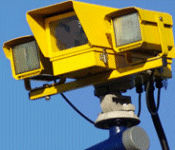 Users of the A127 'Arterial Road' into Southend take note… The SPECS Average Speed Camera network is now live (April 2009).
As locals will know, the speed for the stretch of the dual carriageway approaching Southend recently dropped from 70mph down to 50mph, with average speed cameras in place to enforce this limit.
Essential safety solution, or a council money-maker? More discussion on the A127 50mph Speed Limit Protest Group on Facebook.