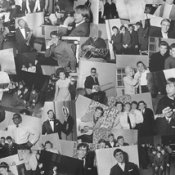 In November 2009, we reported on an exhibition of previously unseen images of celebrities who appeared in Southend and Romford back in 1963. The exhibition, called Unseen 1963, featured a selection of photos taken by press photographer Derek Cross.
The never before seen images of stars such as Cliff Richard, The Beatles, The Rolling Stones and The Kinks, were  taken at the Southend Odeon and Romford Odeon, and include some high quality backstage images of celebrities playing here in Essex in the Sixties.
Many locals attended the exhibition on Leigh Broadway back in late 2009, and now, by popular request, many of the images shown at the exhibition are now available to browse and buy online.
If you'd like to take a look at the collection, and maybe get yourself a limited edition print, please visit the new Stars in Southend 1963 website at www.starsinsouthend1963.co.uk