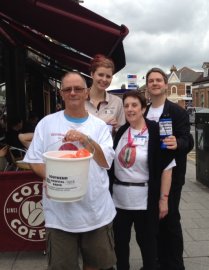 The team from Southend Hospital Radio are out in Leigh-on-Sea today raising funds for their radio station.
Southend Hospital Radio is based at the back of Southend Hospital, and provides music and entertainment for the patients. These days, many of the services available at hospital bedsides isn't free, but hospital radio continues to provide a free service, thanks to kind donations from the public, and the commitment of their team of volunteers.
The radio station, which launched in the 1970s, operates each weekday evening and at weekends, and offers two popular back-to-back music services when the studios are not offering live programming. an important aspect of what the station does, is the evening request show, where teams of volunteers visit patients on the wards, and then plays each patient their favourite music.
If you see the team on Leigh Broadway today collecting, please feel free to drop some loose change into the tins, as all donations help the station to continue to operate, despite the rising costs.
The team at Southend Hospital Radio would like to thank the people of Leigh-on-Sea for their support and generous donations today. Thanks also to Costs Coffee on Leigh Broadway for helping to promote the event.
Southend Hospital Radio is a registered charity. More details on what the service offers can be found at www.southendhospitalradio.co.uk