The licence for the location radio service Southend-on-Sea was won by Southend Radio in April 2006. Here is some information on the timeline
Southend Radio licence holder:

Southend Radio launched in March 2008 as the local radio station serving Southend.
The station broadcasts from a studio complex on Southend Seafront, next to the Adventure Island Theme Park. The studios also serve Chelmsford Radio
Below is some information on the timeline.
October 2005: Licence Advertised
On 6th October 2005, OfCom, the government body
in charge of UK radio, opened submissions for parties interested
in running a Southend-based radio station. Potential bidders had three months to prepare their bid for a 12 year licence to broadcast. The station should
cover Southend, and may include parts of Canvey Island, South Benfleet, Rochford,
Rayleigh and Shoeburyness.

The Southend FM station should broadcast on 105.1 MHz, with an ERP of 500 watts. The
licence announcement can be found on the OfComsite
January 2006: Applications Closed
Application processes closes. Ofcom now assess the bids
April 2006: Licence awarded
Four applications were received when applications closed on the 12th January 2006.

The Southend FM licence was awarded to 'Southend Radio Ltd'. See the OfCom announcement. Here's what was public about the winning bid at the time:

Southend Radio Ltd – Philip Miller, Chief Executive of Adventure Island is behind this station, with locally-known radio presenter Peter Holmes as a Director. The station plans to offer music from the 60's to today, broadcasting from studios at Southend's Adventure Island theme park. Major shareholder is Stockvale Group (Adventure Island, Sealife Centre and Mercury FM Watford). The Tindle Radio Group (with a number of stations including Dream 100) withdrew their support for the station.


Here's some information on the unsuccessful applicants:

Estuary FM

– Backed by LMC (London Media Company, a wholly-owned subsidiary of Sunrise Radio), the station has former Southend East MP Sir Teddy Taylor as the chairman. Estuary FM has conducted a number of special event stations in the area in previous years. They wanted to offer news, information, entertainment and a mix of classic and contemporary music.

Radio Futures Limited (Seacoast Sound) – The station planned to target the over-45 age group, and would have been based in the former Essex Radio studio complex in Clifftown Road, Southend. Behind the station were John Massey (Chairman), Gary Dingwall (formerly of Essex Radio and Classic FM), as well as veteran ex-BBC Radio 2 broadcaster David Hamilton.

Radio UK Holdings Ltd. (Diamond 105 FM) – Aimed to provide a rock station aimed at 18-54 year olds. Names behind this bid included Tim Schoonmaker (founder of the EMAP radio group) and Paul Chantler (former Programme Director for the Essex Radio Group). Radio Uk Holdings Ltd is owned by global investment bank Macquarie Bank Ltd
August 2007: Construction under way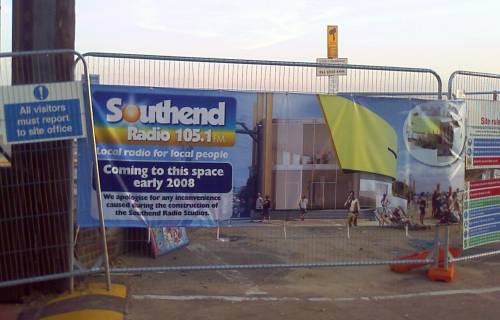 Southend Radio's Studio Complex – As of August 2007
March 2008 – Southend Radio Launches
Southend Radio launched on 28th March 2008 at 8am, from custom-built studios close to the Three Shells Restaurant on the seafront. The Programme Manager is James O'Neill (formerly from Kick FM in Berkshire).

Southend Radio started test transmitting on the 5th of March 2008 with wave sound effects.

Other Southend Radio links:
Got a question about Southend radio, or anything to do with Southend? Post a message in our Southend-on-Sea discussion
forum