Sample some a little Quirkish Delight – Comedy Improvisation, in Essex
What is Quirkish Delight?
What indeed? There are several answers to this particular question, many of which contain the words zeitgeist and paronomasia, And they all end with a full stop. But it is still a question, nevertheless. There are other questions in a similar vein that are easier to answer. Do ducks' quacks echo? How many sequels were there to Planet of the Apes? The answers to these questions can soon be found. Go to the reference section of any library and you can research ducks' quacks and sequels to Planet of the Apes- without too much bother.
However, the answer to the question 'What is Quirkish Delight?' is a more taxing challenge. It's all about improvisational comedy, and it all started in a central Southend location on the 29th of November 2003. You can try asking at the information desk for more details, but they will only point you back in the direction of the reference section and the answer just isn't there. So, to sum up, you'll have to find out for yourself, by coming along to the next get-together.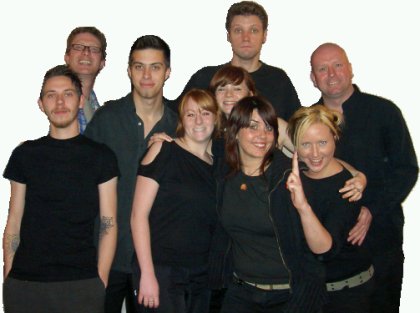 Who is Quirkish Delight?
The following reprobates make up the team: Simon Blackman, John Henry Keating, Sarah Mayhew, Charlie Platt, Elsa Moore, Emily Winchless, Stephen Frank Rae, John Davis and Jeremy Battersby.
For more on Quirkish Delight and when you can next see them in action, go to the Quirkish Delight MySpace Page
Home | Southend Comedy | Southend News | Southend Radio | Southend Groups | Links