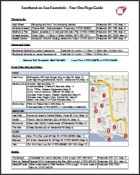 A new addition to our site – Southend Essentials.
Southend Essentials is a handy one-page guide to visiting Southend-on-Sea. It's intended as a single sheet that you can print out and bring with you. The guide includes train times, phone numbers, attractions, food and drink, plus accommodation.
It's available as a PDF (for one-page printing), or as a web page.
Suggestions for the next version are welcomed.