Although the Digital TV Switchover won't affect most Southenders until April 2012, Sky's been busy in Southend Town Centre, as it's the first day of their four day "Sky Southend-on-Sea Roadshow".
If you happen to be at the Odeon end of Southend High Street between today, the 29th of July, and Sunday the 1st of August, you'll find a mini-arena, photo booth, a friendly Sky chap with a loud microphone and a tent demo'ing the latest offering from Sky – the Sky 3D service that's launching in October 2010.
There's lots of people with clipboards keen to sign you up to Sky, as well as to capture your personal details for Sky's mailing list. You'll also be able to pick up a goodie bag with a handy "Sky, Believe in better" notepad, a Sky Digital Switchover pen, and a leaflet for the good people of Canterbury in Kent.
It seems that last week, the roadshow was in Canterbury, and their goodie bags have yet to "switch over" to the Southend-on-Sea leaflets. D'oh, as Sky One's Homer Simpson would say.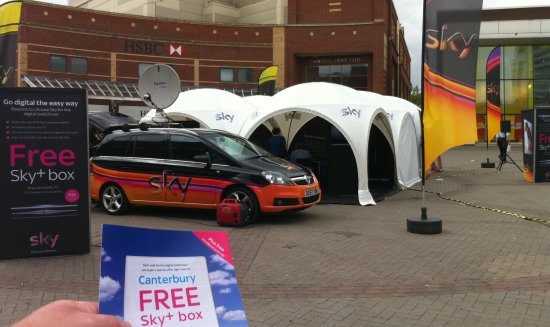 Still, if you're considering switching to Sky, want to know what 3D TV looks like, or just fancy a free pad 'n' pen, pop down to the Sky Roadshow on the High Street before Sunday afternoon.
Some tips:
Do: Get £3 in cash for taking a 3 minute survey on your viewing habits by the ladies with clipboards
Do: Enter the draw for a Sky+ package (if you're OK handing over your address, that is)
Do: Say hi to the lovely promotion girls Emma, Heidi and Anna (tell them we sent you!)
Don't: Sign up to Sky at the roadshow! The "Free Sky+ box" quoted on the Canterbury leaflet is also available online, but you get a £25 Marks and Spencer voucher if you sign up online (or £50 if you go HD) – Sign up online and get a voucher at www.sky.com/shop for a better deal
Don't: Forget the free pad and pen
For details of how the Digital Switchover affects Southend, go to www.southendswitch.co.uk