Shoppers at Waitrose in the Southend area will no doubt know that each month, three charities are picked, and the store makes a donation based on shoppers votes. At the end of each shop, you're given a green token to drop into one of the three charity boxes.
For the month of March 2011, the Waitrose store on London Road, Leigh-on-Sea, has Southend Hospital Radio as one of the three charities in their Community Matters programme.
Declaring our interest, one of the team here at Sarfend.co.uk is a member of the local hospital radio station, and as such, that's this website's charity of choice.
If you're shopping in Leigh-on-Sea's Waitrose in March, please consider dropping your token in the Southend Hospital Radio box to show your support.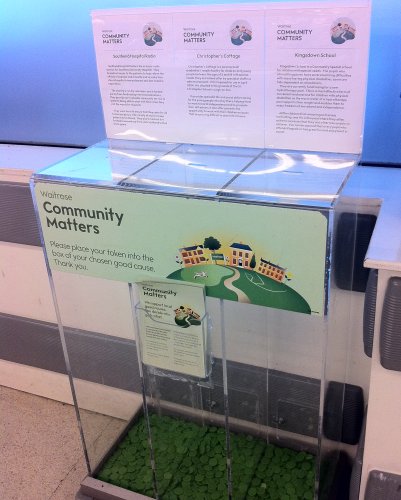 The radio station is staffed by volunteers who visit the wards of the local hospital, chat to patients, and try to brighten their evening by playing music of their choice. Much of the by-bed entertainment in Southend Hospital requires patients to buy a TV card and pay for services. Thanks to the donations of the public, Southend Hospital Radio is able to offer two free radio stations to patients. You'll find more on what the station does at www.southendhospitalradio.com
Thanks for your support.