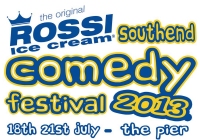 I say, I say, I say… What do you get if you cross 40 comics with the World's Longest Pier?
July 2013 sees a four day festival of comedy hit Southend, with names such as Russell Kane, Terry Alderton, and the local improv team Scared Scriptless
The Southend Comedy Festival runs from the 18th to the 21st of July on Southend Pier… four days/nights, 40 comedians and a very long Pier!
Tickets are prices from £5 to £15, and you can order via www.visitsouthend.co.uk, via the Box Office on 01702 618747 or direct from Southend Pier. Ticket Prices include a return on the pier train.
Here's the comedy lineup for this year's Southend Comedy Festival:
Thursday 18th July: Russell Kane – Smallness-Festival Launch Night! 8pm Tickets £10.
Friday 19th July: Scared Scriptless – A night of sketch & improvised comedy – 8pm Tickets £5.
Saturday 20th July: Richard Sandling's Perfect Movie 4.30pm Tickets £6.
Saturday 20th July: 'The Joker Club' 8pm Tickets £10.
Sunday 21st July: Bob's Comedy Club presents Edinburgh Previews! 4.30pm Tickets £7.50.
Sunday 21st July: The Big Charity Comedy Gala in association with the Fire Fighters Charity featuring Paul Pirie & Raymond & Mr Timpkins as well as an exclusive look at the latest character comedy from Terry Alderton: "The Two Johns" – 8pm Tickets £15
Hope to see loads of you there for Southend's Comedy Festival – show your support for Southend's local mirth-makers!