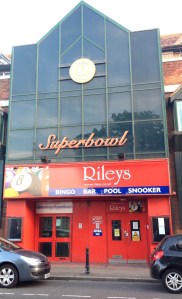 Thanks to regular visitor Mark for drawing this story to our attention, and asking for some clarification.
Rileys Superbowl on Leigh Road, Leigh-on-Sea closed its doors on the 22nd of July 2013. A sign on the door states:
"Due to the redevelopment of Rileys Leigh on Sea, this unit will be temporarily closed. Please call 01702477168 for further information. An opening date will be announced on the Rileys Web Site very soon"
As of today, 20th August 2013, the Rileys site states:
"Rileys at Leigh on Sea is now closed for refurbishment. We're looking forward to returning soon with a new look club, but we're sorry, at present we can't give you a precise date for the re-opening. We hope however that it won't be too long."
A note requesting changes to licensing in the window makes mention of moving the snooker tables to the first floor, addition of a stairwell, and the first floor to be licensed.
Rileys Superbowl Closed
In contrast, the Leigh Times, dated 13 August, leads with the headline that Rileys Superbowl has closed and the site is on the market for £650,000. The report states that there is planning permission to demolish half the site and for eight homes to be built there.   The Leigh club appears to no longer have a listing at rileys.co.uk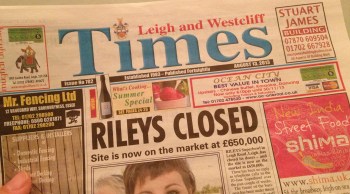 A post on the Rileys Leigh Facebook page from 22nd July dismisses talk of closure, stating: "I can assure you 100% we will re-open for business when our NEW snooker hall up stairs has been referbished…."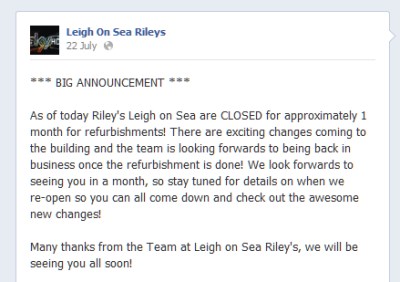 The Rileys site was formerly the Corona cinema, which opened in the 1920s. A local petition failed to get the site protected in 2012.
Refurbing, or closing?
We're not sure! If you have any news of the fate of Rileys, please get in touch!