With a local mini-supermarket on every street corner, the role of the milkman has changed. To keep pace, Dairy Crest taken milk deliveries into the 21st century. Here's our review of their Southend-on-Sea 'milk and more' service.
The milk round?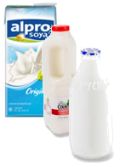 For years, milk was delivered by trusty, but slow, electric milk floats. They're still about, and in an effort to get more custom, the milk delivery firm Dairy Crest has launched Milk and More. It's available in the Southend-on-Sea area, and they now deliver much more than milk.
We're about to review the service, called Milk and More, and see how well the service works in Leigh-on-Sea
Why consider Milk and More?
Things have changed since the days of the old milk round. Here's what's new:
Free delivery (No "delivery slots" to book!)
No minimum spend
Order items before 9pm and get them in the morning
Not just milk. 250 items available for next day delivery
Over 30 different types of milk
Pay monthly by direct debit or credit card. No payments at the door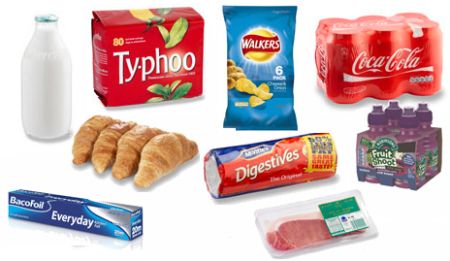 Some of the stuff that the milkman can now deliver
How Milk and More works

A little sceptical of going backs to the days of the daily milkman visits? So were we, until we were told how much things have changed these days. No more leaving notes for the milkman and having to pay him on a Friday. It's all different now. Now, you can get all sorts of things delivered to the door – you order online, and if you order by 9pm, you'll have it in the morning. Set up regular deliveries (such as pint of semi-skimmed every 2nd day and a loaf twice a week), and add to or remove items as needed. Oh, and you pay by direct debit or credit card.
As there's no contract, or minimum charge – sign up for free, and give it a try. That's what we're doing at the moment.
Using the service
Signing up took about 2 minutes on the Milk and More website. After entering a name and address, we were told that our milkman's chap called Peter M. We were asked how we'd like to pay – and saw Direct Debit or Credit Card as the options, so no mucking about with paying at the door on a Friday.
Once signed up – place an order, and get your first delivery next day!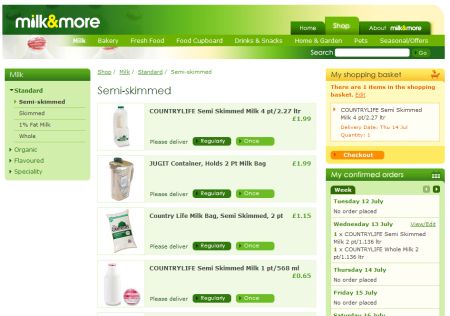 Our first order placed online with the Milk and More website
Milk and More Review
We signed up in July 2011 to try the service. We'll let you know how we get on.
What's on offer:
Milk – 52 items available, including organic, kids and UHT. At the time of writing a 1 pint bottle / carton or milk costs 65p
Bread – Including hot cross buns, baguettes, pancakes, croissants and crumpets
Drinks – Fruit juices, tea, coffee, squash, plus bottles and cans of coke, fanta, sprite, etc. There's also Yakult
Dairy – Butters, cheese, cream and yoghurts
Food – Eggs, bacon and soup, plus breakfast cereals. Fruit and veg too – apples, oranges, potatoes and peppers
Snacks – Biscuits, cereals, cakes and crisps
Cat and dog food – Cans, biscuits and pouches
Household – All sorts of things from Bacofoil, bin bags, loo rolls, washing up liquid and compost!
In Southend and use the service? Got a comment? Please get in touch!
In Southend | Weather | Southenders | Southend Radio | Southend TV | Southend Photos