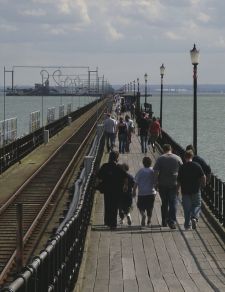 Southend Pier has been closed to the public, possibly until the end of March 2012, after it was struck by a Leigh fishing boat on Friday the 17th of February.
It seems that as a result of the impact, the walkway is distorted, and repairs are needed before it can be opened to the public again.
A statement from Southend Council indicates that it appears that the Leigh-based fishing vessel sailed straight into the side of the Pier.
Many locals may remember that a similar closure took place last September, after a repair barge struck the pier. Although you'd think a brightly-lit 1.3 mile long pier that's been there for years would be hard to miss, apparently this marks the 17th time in the Pier's history that it has been struck by a ship.
There's more on this incident, plus an update on the repairs, on Southend Council's site: Fishing Vessel Strikes Southend Pier