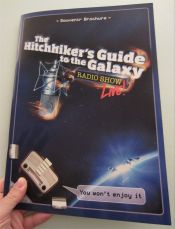 Hi to all those hoopy froods that turned up to see the Hitchhikers Guide To The Galaxy Radio Show Live, in Southend-on-Sea tonight, Wednesday the 18th of July 2012.
Fans of the 1977 radio series created by Douglas Adams, were out in force this evening as the UK tour hit the Cliffs Pavilion in Westcliff-on-Sea this evening. The show kicked off at 8pm to a packed Cliffs, and was amazingly well received. Here are some of the highlights:
"Southend"
We've been tweeting all day that Southenders needed to give a big cheer when Southend got a mention. From the original radio series:
ARTHUR: "... it looks like the sea front at Southend"
FORD: "God I'm relieved to hear you say that"
ARTHUR: "Why?"
FORD: "Because I thought I must be going mad"
From tonight's show:
ARTHUR: "... it looks like the sea front at Southend"
CROWD: Big cheer!
FORD: "God I'm relieved to hear you say that"
ARTHUR: "Why?"
FORD: "Because we just got a round of applause"
Nicely done to Simon Jones and Geoff McGivern for the ad lib, and the nods to the audience ;)
Other great bits from tonight's show:
The temperamental Nutrimatics machine
Southenders singing along to the "Share and Enjoy" jingle.
The Marvin solo
Philip Pope (musical genius and Nigel Pry from classic show Radio Active) as Frankie Mouse
Plus the nod to the late Douglas Adams, without whom we wouldn't have been there tonight
The Book
As the original Guide voice, Peter Jones,  is no longer with us, the voice of the guide has been shared between guest voices such as Jon Culshaw, Clive Anderson, Andrew Sachs and Hugh Dennis. The Southend performance was courtesy of John Challis, a.k.a Boycie from Fools and Horses, and he did an exceptionally good job of reading the guide entries loved (and memorised) by Guide fans. Nice touch was to see John play the part of the eager-to-be-slaughtered main course, in the voice of Boycie… then being led away by a cameo from Sue Holderness ("Marlene").
All in all, an excellent show. From talking to some of the audience during the intermission, most people there tonight know the story intimately, and certainly for me, tonight wasn't about hearing the story, but seeing the actors play the parts we know so well. The voices of Arthur, Ford, Zaphod, Trillian and Marvin are still spot-on, and to see the original actors playing the parts in the flesh was a treat for me as a dedicated fan.
Anyone else notice that the set-up line "I seem to be having tremendous difficulty with my lifestyle", wasn't referred back to? I was expecting a small dog to swallow a fleet, but nope.
Well done to all on stage, Simon Jones, Geoffrey McGivern, Susan Sheridan and Mark Wing-Davey. Also to Toby Longworth, a great Slarty/Jeltz, Philip Pope, Andy Secombe and Samantha Beart (as a great sulky Random Frequent Flier Dent). Mad bat Agrajag, was of course, voiced by Douglas Adams from his reading on the spoken book. Superb live foley sound effects too from Ken Humphrey, and of course, director Dirk Maggs, who also looked after series 3, 4 and 5 of the radio series.
UPDATE: Audio recording of the show available until 4th August – See Hitchhikers Guide Southend Recording Available
The Audience
Respect to those toting towels, or donning their dressing gowns with pride. Really added to the party spirit!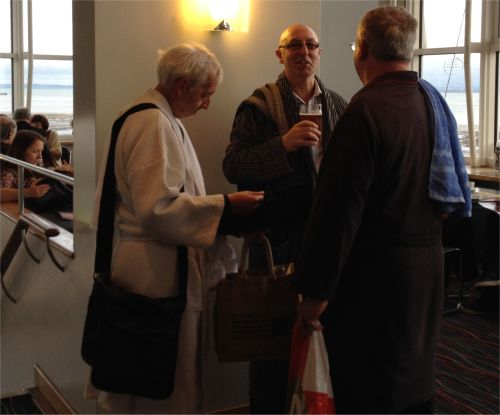 Audio Recording
An official MP3 version of tonight's show will be on-sale in the next few days, for a very limited time. Billed as a radio show, it'll cost £9.99, and you will be able to download it from www.hitchhikerslive.com/shop-audio.php, where you can also buy an overpriced Babelfish 1GB memory stick (£15? Really?), a towel and some T-Shirts. The mp3 file will be a great souvenir, but be careful of the short 7-day download window if you want a copy.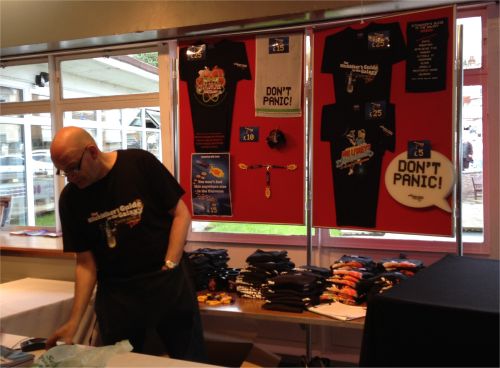 Couldn't make it?
Console yourself with a look at this YouTube clip – a trailer for the tour giving you a 2 minute and 30 second teaser of how the show was brought to life on stage:
Well done to all for making the show possible. The traveling version of the radio show has been on tour since early June, and wraps up in Edinburgh this Saturday. Hopefully, we will see the tour making a return . It's infinitely possible!
Share and Enjoy!