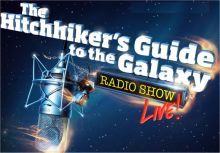 Those of you that attended the Hitchhikers Guide To The Galaxy Radio Show Live on the 18th of July this year, note that for a very limited time, an MP3 audio file of the Southend show is available for download.
There's only a small window of opportunity to download this file (this week only), and we're pretty sure that all of you who attended the show in July will want a copy of this to remember the experience. Recordings of each show have been made available, and of course, each venue's audio is unique.
Ordering Hitchhikers Live Southend
The file will set you back £9.99 and can be purchased from the following link: http://www.hitchhikerslive.com/shop-audio.php
VERY LIMITED TIME You'll only be able to download this for a very short period of time. It looks like it'll be gone on either Saturday the 4th of August, or Sunday the 5th of August, so hurry if you want a piece of Southend Hitchhikers History
You'll need to pay via PayPal and after paying, you'll be sent an email containing the details on how to download the file.
The file is a 158Mb download, which contacts two MP3 files in the ZIP file:
First Half: 93Mb file lasting  1 hour and 8 minutes
Second Half: 88Mb file lasting  1 hour and 4 minutes
Both files are encoded at 192kilobits per second, stereo. Audio quality is excellent, and the mix of voice, music and live sound effects works well (at least for the 5 minutes that we've been listening). The audience laughter is audible, but doesn't distract from the dialogue. The audio team here has done a great job on the production of these audio files.
Missed the show?
We're led to believe that due to the success of the show, it could well be back on tour again next year. Fingers crossed, she show will be back at the Cliff Pavilion, especially as Southend was one of the more vocal and enthusiastic of the venues! Watch this intergalactic space!
For those silly enough to miss out, check out the following short YouTube clip to get a feel for what you missed
See our: Hitchhikers Guide To The Galaxy Southend Review
Any fell Hitchhikers have any comments on the show? Please add a comment in the Sub-etha comments box below!