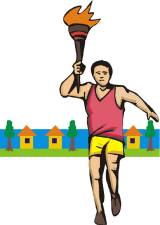 This coming Friday, the 6th of July 2012, sees the Olympic Torch reach Southend-on-Sea. Here's a quick summary of what to expect, and where to see the torch.
Friday is Day 49 of the Olympic Torch Relay, and sees the Torch travel from Ipswich to Chelmsford, via Southend. Here are the local stops:
Rayleigh:
The Torch is set to arrive close to Sweyne Park on the A129 London Road at 10:20am. It will travel past Rayleigh Station, up Crown Hill and along Rayleigh High Street.
At 10:45am, the torch will complete it's Rayleigh leg at Brook Road, then be transferred on to Southend
Southend:
Five minutes later, the Torch will be at the Bell Pub on the A127. It then runs to Cuckoo Corner, down Victoria Avenue, to Queensway, and then down the High Street. It then heads to Pier Hill, along the seafront to Marine Parade.
The Torch will stay here until 12:40pm whilst a choir of 2,000 voices sing "Let Your Light Shine", a special anthem for the Torch composed for the event.
After this event, the torch will run from Marine Parade all the way along the seafront to the Crowstone on Western Espandale before gpoing up Chalkwell Avenue to the London Road (Junction with Westbourne Grove)
The torch will then run from Chalkwell to Hadleigh along the London Road, where it will reach Hadleigh at 1:52pm
Hadleigh
The published Torch route estimates that the Torch will reach Hadleigh on the London Road (Junction with Berkeley Gardens) at 1:52pm. It runs along the London Road until Chapel Lane, where it pays a visit to Hadleigh Castle, and the mountain bike track that will be used for the games. It's set to arrive at the track at 2:30pm.
After this stop, it's back along the London Road and at the Magnet roundabout, up Rayleigh Road to the Rayleigh Weir at 3.25pm. From here; the torch will be taken to Basildon.
Rest of the day
Basildon: Arrives at 15:42pm at Gloucester Park
Grays: Arrives at King George's Field at 17:02pm
Brentwood: Arrives in Herongate at 17:44pm
Chelmsford: Arrives at 18:40pm for an overnight stay
Planning to see the Torch? Add your comments below.
Update: See our page of Pictures of the Olympic Torch in Southend-on-Sea